Little Adams Peak is a must-visit destination in Ella, Sri Lanka. The place is very popular among both locals and foreigners, as well as hikers. A fantastic spot for a hike that you shouldn't miss during your visit to Ella
Little Adams Peak location
Little Adams Peak is situated a few kilometers away from Ella City. Here you can check the Google Maps location of the destination:
To reach Little Adams Peak, you need to drive through the Ella-Namunukula route after you come to Ella City. There are many tea plantations along that route. After around 1.5km of travel, you should turn right and follow a poorly maintained route to reach the trail's starting point. If you face any trouble, then you can get the support of the locals to find the correct path. Most of the time, you will meet local tea pluckers who are around this route and will treat you with a beautiful smile.
There is a parking lot for your vehicles. No matter what kind of vehicle you are driving, it needs to stop in the park, and now you should start trekking on foot. If you are a foreigner who is reaching this place without a guide, then you can hire a tuk-tuk in Ella city to come to the trail starting point. There is an alternative route that starts near the 98-acre resort, which somebody else can try. You will also meet a little Buddha statue at the beginning of that route.
Hike to Little Adams Peak
At the beginning of the hike, you have to walk on a sloping staircase made of concrete. It's tiring at the start, but gradually the tiredness will reduce. On this way, you can see the Flying Ravana Zipline. It is another place in Ella specially made for adventure seekers.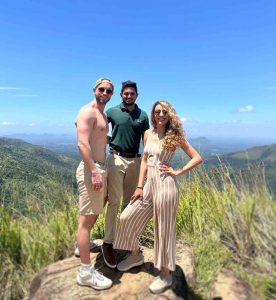 After about one kilometer of trekking, you will come to the top of the mountain. There, you can see the famous single tree on the mountain. Now on, you can trek a long distance through the mountain. Sometimes you need to walk on a downward route, and then it will not create upward walking anymore. The highest point of Little Adam's peak is 1141m from the sea level.
What you can observe
There are few view points on the entire mountain range. Not many people trek long distances, and most of them finish their journey after they reach the first view point. At every view point, you can observe a breathtaking view of the surrounding areas.
From the top, you can observe the famous Ella Rock Mountain, which is considered the neighbor of Little Adams Peak. As well, you can clearly identify the Ella-Wellawaya route, which looks like a snake. As well, you can clearly identify most of the southern valleys and the surrounding hills. Kumbalwela area, Namunukula Mountain, and 98 Acres Resort are the other areas and things that you can observe from the top.
Most travelers believe early mornings and late evenings are the best times to visit Little Adams Peak. At those times, you can capture marvelous pictures of both the sunrise and sunset. So, if you are a photo lover, then it's advisable for you to visit those times to take some unforgettable shots.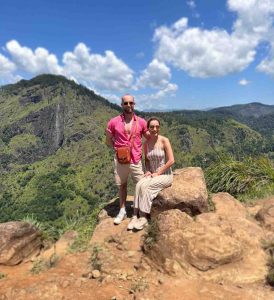 Other facts about Little Adams Peak
The name 'Little Adams Peak has been derived because of this mountain's shape, which is quite similar to the famous Adams Peak (Sri Padaya). This is not a hard hike for anyone. You can finish the entire journey within 2–3 hours. Some areas of the trail are a little bit harder due to its rocky surface. Therefore, you should wear a pair of shoes for this trek. Further, don't forget to carry enough water with you. There is no water source during the whole trek.
The top of the mountain is also superb for yoga and other meditation activities. If you are a person with such enthusiasm, then you can try them out on the mountain. Sometimes, we are sure that you can find some of those photos when you are browsing about Ella Little Adams Peak.
Further, the amazing fact about Ella is that it is the area where you can breathe the most pure oxygen in the whole world. Hopefully, this fact will also convince you to not do this nice little hike anymore.
Final Words
Little Adams Peak is a must-visit destination for all global travelers. It is an ideal spot for photography. You can observe a breathtaking view of both sunrise and sunset from the top.
As well, you can participate in the adventure activities that are organized by the Flying Ravana Team. If you are a foreigner, then you can choose Mahaweli Tours & Holidays as your trusted guide to do the hike to Ella Little Adams Peak. Here, choose our Ella Tour, which will also cover other nice places in the Ella area, including Ravana waterfall and Nine Arch Bridge.
.
.
(Note: Cover Image Credit goes to the respective owner. We found it on Facebook)