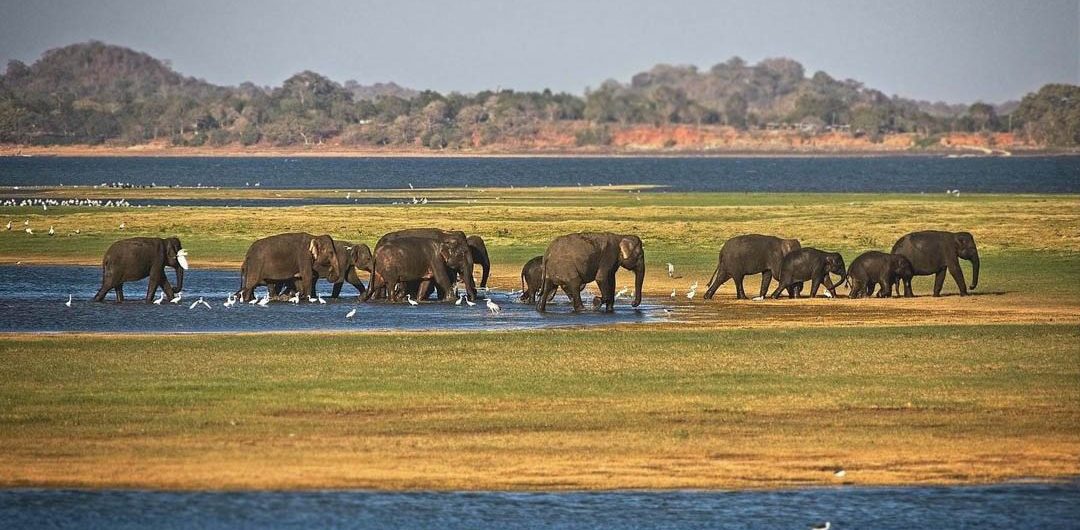 Minneriya National Park is another famous tourist destination in Sri Lanka. The place is widely popular due to its largest elephant gathering. It belongs to the Polonnaruwa District of North Central Province. Minneriya National Park is the home to many wild animals. This covers 8889.4 ha.
Location
Minneriya National Park is situated 182km away from Colombo city. It needs almost 4 hours to reach the capital. The distance from Kandy is about 105km. It will take around 3 hours to reach this from there. Google Maps will help you find the location. Dambulla, Sigiriya, and Polonnaruwa are some of the most visited tourist destinations on the island. Those locations are not far from this national park. Therefore, many of them don't miss this place to visit.
History
Minneriya Tank, or what the locals call "Minneriya Wewa," is an ancient construction. It was made by King Mahasen in the 3rd century AD. The purpose of the tank was to supply essential water for paddy cultivation. The surrounding forest was the main water source for the tank. Apart from that, the Amban River and Elahera Canal bring water to the Minneriya Tank.
The tank and its surrounding forest were declared a wildlife sanctuary in 1938. It was further declared as a national park in 1997/08/12. The aim of the declaration was to protect the tank and wildlife of the area.
Climate
The Minneriya National Park and surrounding area receive an average annual rainfall of 1000–1500 mm. The average annual temperature is around 25–30 °C. The North-Eastern Monsoon is the main rainfall source and it is active from October until February. There is a clear dry season from May to September.
Wildlife
Minneriya National Park is home to 24 mammal species, 1600 bird species, 9 amphibian species, 25 reptile species, 26 fish species, and 75 butterfly species.
Some of the birds that you can watch here are the Sri Lankan Junglefowl, Sri Lankan Hanging Parrot, and brown-capped babbier. It is a paradise for both resident and migrant birds. Along with them, you can identify the Sri Lankan Leopard, Sri Lankan Sloth Bear, Sri Lankan Sambar Deer, Buffalo and two types of endemic monkeys.
Elephants
Minneriya is best known for its largest elephant gatherings. Group of 150 – 300 wild elephants can identify together in the dry seasons. Elephants in Matale, Polonnaruwa, Trincomalee disticts migrate to Minneriya National Park in the dry season. They gather around the Minneriya Tank because of the food and water. Therefore, May to September time period consider as the best time to visit this sanctuary.
There are many Safari service providers around this national park. So, you can pick one of them to plan your wildlife tour. As well as you, there are many hotels and lodges for tourists in Dambulla, Sigiriya, Habarana and Girithale areas. This is the National Park that you should visit if you love Sri Lankan Elephants and widlife.
Read more from our Website:
Day Tour at Polonnaruwa Ancient City
( Cover Image Credit: Stephen Blaxhall )