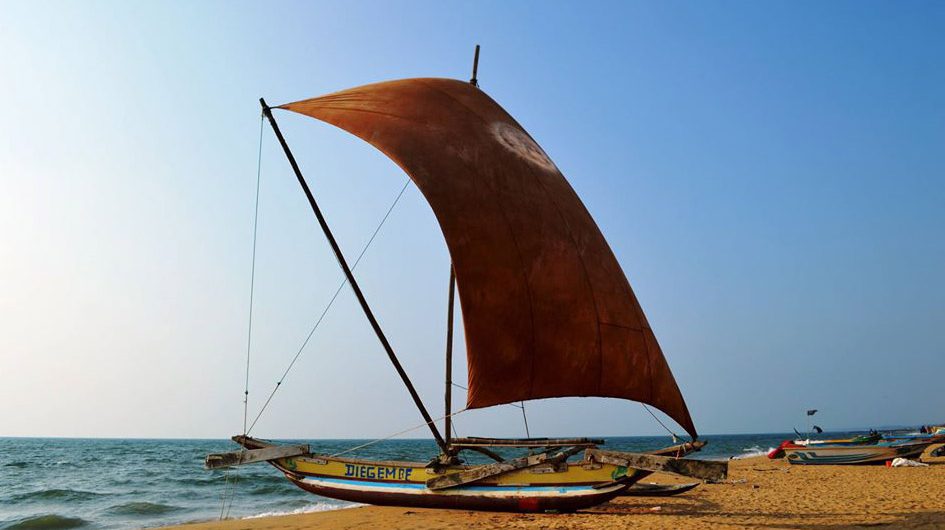 Introduction to Best Beaches in Negombo
In this article, we are going to show you the best beaches in Negombo, Sri Lanka. Let us give you a quick overview of Sri Lanka and its beaches.
Sri Lankan beaches
Sri Lanka is a beautiful island in the Indian Ocean with an area of 65,610 sq. km. The surrounding ocean has created many beautiful beaches all around the country. Most of those beaches are located in the southern and eastern parts of the island. But there are a few nice and beautiful beaches on the western and northern sides too. Arugambay, Unawatuna, Mirissa, Weligama, Bentota, Tangalle, and Nilaveli are a few of the popular beaches in Sri Lanka. You can choose one of those beaches according to your requirements for swimming, diving, surfing, kite surfing, camping, or any other activity. We recommend that you read the blog posts listed below in addition to this one.
Beautiful Beaches in Sri Lanka
The Best Places for Surfing in Sri Lanka
About Negombo
Negombo is a well-known and economically important city in the Western Province of Sri Lanka. It is a coastal city which is situated 38km away from Colombo City. The city is 8 km away from the Katunayaka Airport. So, many tourists visit Negombo as their first destination in Sri Lanka.
Negombo is a city with a population of over 100,000. The majority of the people are Sinhala Christians. But you can see some Tamils and Muslims out there. Negombo is a historical city with over 500 years of history. The area is very famous for fishing, though most of the people do it as their occupation. But the area is so full of beautiful places, with a few nice beaches. Here we are going to tell you about the best beaches in the Negombo area.
Negombo Best Beaches
Browns Beach
This is the most popular beach in Negombo. It is an unspoiled, private beach with golden sands. You can observe an amazing view of both the sunset and sunrise. The turquoise blue water and palm tree line add to the beauty of Browns Beach. The place is very famous among locals and foreigners alike. It is superb for kitesurfing, sailing, swimming, and windsurfing. Here, you can do mid-night swimming too.
It is 4 km away from the Negombo bus stand, which is open 24 hours a day. You can see fishing boats in the sea, which brings another beautiful view to the visitors. There are also some shops and restaurants available for visitors.
Negombo Beach
This beach is situated just close to the Browns beach. It is a cluster of a few beaches. This has a very long stretch where you can do a long walk. The golden sands with fairly fast winds always bring you nice feelings. Furthermore, this is usually not much more crowded than other beaches in Negombo. The palm tree lines generate a nice picture for a photographer. It is not suitable for swimming. But you can wait there and enjoy the sunbath while reading a book.
Most of the locals come to this beach for kite surfing. Furthermore, it is suitable for beach volleyball and football. You can see many fishing boats on the beach. The front sea area is busy with many fishing boats. There are many luxury hotels and guest houses available near the beach.
Morawala Beach
This is another best beach in Negombo with less popularity. But it is very popular among locals. It is situated in Pitiapana Village, 3km away from the Negombo bus stand. It's an excellent location for swimming and relaxing. Evening is the perfect time to visit Morawala Beach. You can capture a nice picture of the sunset.
Normally, this is less crowded. There is a large reef which reduces the speed of the waves. Therefore, anyone can bathe safely here. But you should remember to note that you shouldn't cross the reef. You can also observe the Negombo Lagoon during this visit. We should say that Morawala is a must-visit and the best beach in Negombo.
Negombo's weather
Negombo is a coastal city with hot and humid weather. The annual temperature is around 27 °C. The temperature is getting lower when the sea breeze comes. Average annual rainfall is between 2000 and 2500mm. You can experience rain in all 12 months, while May, June, and July are the wet months. But January and February are the driest months.
Final Word on Best Beaches in Negombo
Negombo is a popular city among local and international tourists. There are so many beautiful places to visit. Anyhow, the area is superb for beach vacations for anyone. There are a few beaches in the surrounding area. But we listed Browns Beach, Negombo Beach, and Morawala Beach as the best beaches in Negombo.
.
.
(Cover Image Credit: Ceylon Roamer)