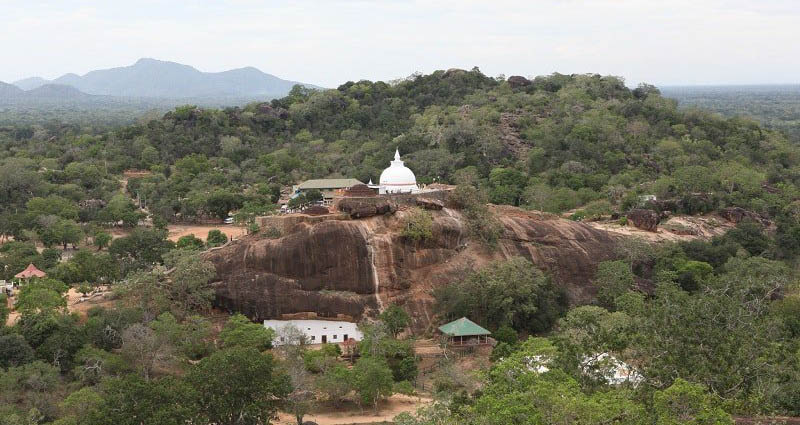 Sithulpawwa Raja Maha Viharaya is an ancient Buddhist monastery that is situated in the Kirinda area of southern Sri Lanka. It is a historically important place in Sri Lankan history. There are numerous ancient ruins and historical evidence that have helped to establish the surrounding areas of this monastery. Sithulpawwa is a place that belongs to Block 1 of the Yala National Park. Therefore, anybody can visit this place during their tour to the Yala Nationa Park.
Location
Sithulpawwa Raja Maha Viharaya is located 294km away from the capital, Colombo. The distance from Galle city is 165km and from Ella tourist city is 103km. You can reach this place by travelling 18km along the Yodakandiya-Tissmaharama route from the Kataragama Pilgrimage City. The notice boards will easily direct you to the place. You will also see many wild animals along the route because it belongs to the Yala National Park. There is a nice park available to stop your vehicle.
History of the Sithulpawwa Temple
It is believed this monastery was built in the 2nd century BC by King Kavanthissa. At that time, this was named "Chiththala Pabbatha", which means "The Hill of the Quiet Mind." This history says that this was a place for Buddhist education for the Buddhist monks. It was also available for worship by the devotees. Today, many ancient cave temples, paintings, inscriptions, Buddha Stratues, and other Stratues can be found in the surrounding area.Most of the paintings have been destroyed, and those historians believe that those paintings belong to the Anuradhapura Kingdom era.
Other facts about Sithulpawwa
On the public holidays, Sithulpawwa Raja Maha Viharaya is a busy place. Therefore, it's better if you can go there on a weekday. The large stupa on the large rock can be found from a long distance. The view from that rock is absolutely beautiful, and it is fantastic to take some beautiful photos. This is a nice place to visit if you are a person who loves to explore Sri Lankan culture and history.
.
.
(Sithulpawwa Temple Background Image source: VISIT 2 SRI LANKA from Twitter)