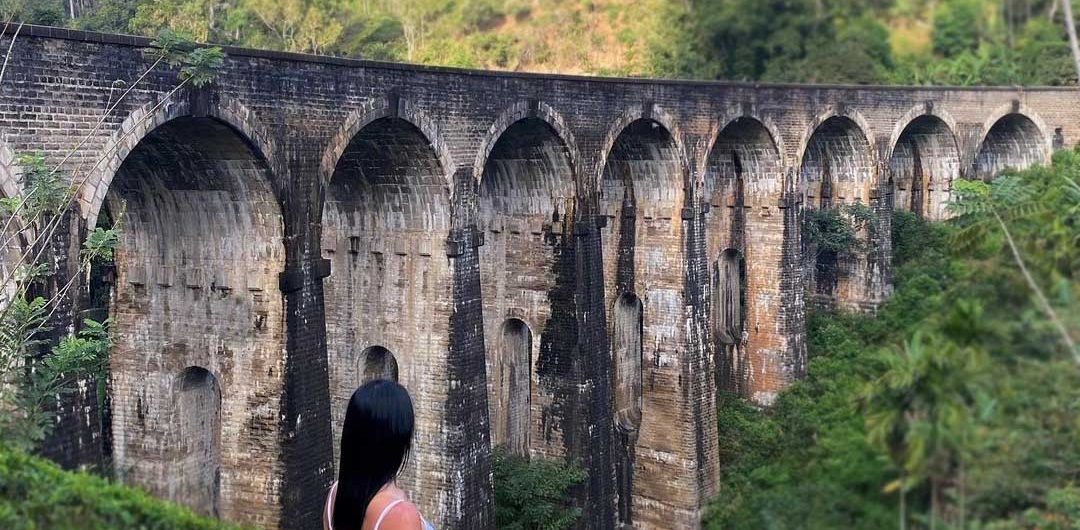 Nine Arch Bridge in Demodara is one of the most famous travel destinations in Sri Lanka. Most of the travelers who come to the Ella region will not forget to visit this place. It's an old bridge that was built in the British Era in Sri Lanka. The bridge is also called the "Bridge in the Sky'.
The Nine Arch Bridge is 300m in length and 80ft in height. There you can see nine spans. The width of the bridge is 25 ft and the elevation of the place is 3100 ft from sea level. This is located halfway between Ella and the Demodara Railway Station.to the Nine Arch Bridge from Demodara Railway Station is 9km and from Ella it is 4km. If you are starting from Ella town, you can easily hire a tuk tuk to reach this place. But you have to walk a few meters to meet the bridge.
The bridge connects two mountains and the Badulla–Colombo Railway. It was opened in 1921. This construction demonstrates the excellence of the architecture and engineering of the early 20th century. During the construction of this project, the First World War happened. It has affected the import of steel from abroad. The British rulers then decided to finish the project without using any steel or metal.The only materials used were stones, bricks, and cement.
P.K. Appuhami and D.J. Wimalasurendra are two Ceylonese who vastly helped to succeed in this project. Then they finished the work and opened the Nine Arch Bridge in 1921. Laterally, they finished the Colombo–Badulla Railway in 1924.
The Nine Arch Bridge in Demodara is normally crowded during holidays. The best time to go is between 9 and 11 a.m. in the morning.It's an ideal place to take some beautiful photos. A few of the cafes are available in the area for visitors. The train journey between Colombo and Ella is considered one of the most beautiful train rides in the world. So, you should not miss it.
Read More: Ella City Tour with Mahaweli Tours & Holidays
(Cover Image Credit:@choineczkaa from Instagram)