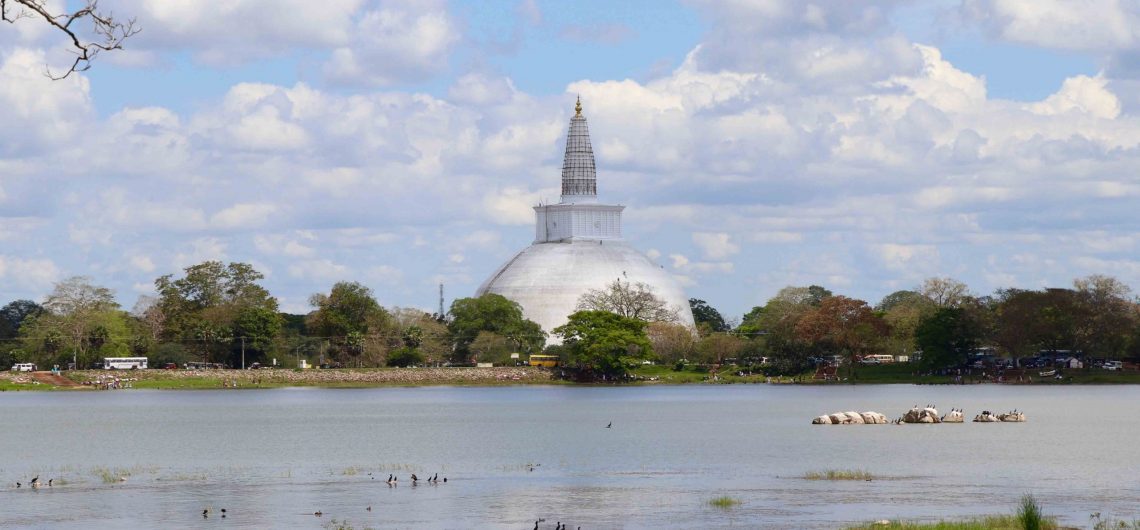 Our Anuradhapura day tour is specifically designed to take you around the city to give you an unforgettable experience of its opulent culture, pilgrimages, and people. Anuradhapura is one of the major cities up to date in terms of its size, ancient ruins, and demographics. You will be given a guide with excellent local knowledge and communication skills. Language-specific guides can be provided upon special request as well. For people who are in love with culture and history, this is the ideal tour to enlighten their spirits.
Before talking more about our Anuradhapura day tour, let us give you a brief introduction about Anuradhapura city. 
The Great Kingdom: Anuradhapura
Anuradhapura was one of the seven kingdoms in the history of kingdoms in Sri Lanka. It is the oldest, largest, and most prosperous of all. In 377 BC, it was declared a kingdom, and King Pandukabhaya made it prosperous. It is still considered the capital of the North Central Province. This kingdom lasted almost 12 centuries ago until it was destroyed in the 10th century AD.
The ancient city of Anuradhapura is a UNESCO World Heritage Site in Sri Lanka. It is a must-see on your trip as it can give you a broad perspective of Sri Lanka's history. There are so many ancient monasteries, temples, lakes, and ruins available to watch. The technology for that construction is wonderful to see. Our guides will explain these things further to you. We cover all these things within our Anuradhapura Day Tour.
The series of sacred places: Atamasthanaya
This little island is full of nature, culture, history, and food. This tour will be educational and informative for all tourists. The guides will guide you through important historic ruins and places where the stories behind them will also be explained. Leaflets or brochures are available at the entrance of most places.
There are eight significant icons that represent Sri Lanka's connection to Buddhism, and all of them are situated in Anuradhapura, thus calling this collection "Atamasthanaya," meaning "eight sacred places." There is a unique story or history connected to each one of them. Most of them were built by kings that ruled the Anuradhapura Kingdom. You will visit all these places on our Anuradhapura City Tour.
This is a fig tree that was planted in 288 BC and is considered sacred because it is believed that Buddha achieved enlightenment while meditating under this tree.
It is a "stupa" that is built by King Dutugamunu and is one of the biggest completed ones to date.
It is the oldest 'dagoba' in Sri Lanka, and possibly the oldest visible one in the world.
The significance of this building is that the roof was once covered in bronze tiles.
It is one of the biggest viharas in Anuradhapura. It was a monastery of 5000 monks.
It is a sacred world heritage site and had accommodated some 3000 monks at the time. It is also quite similar to Abhayagiri.
This stupa was built by King Dutugamunu after defeating King Elara.
This is also built by a king called King Valagamba in the Anuradhapura Kingdom times and is one of the eight sacred places in the city.
There are plenty of other places to see and enjoy. Join us on this day tour to see the biggest contributors in Sri Lankan history. Your love for culture will be expanded after seeing the richness of the city.
Anuradhapura Day Tour with Mahaweli Tours & Holidays.
You can plan your Anuradhapura day tour with us. Here are more details about this city tour.
Possible Starting/Pick-up Locations:

Anuradhapura, Polonnaruwa, Dambulla, Sigiriya, Colombo, Negombo, Tincomale, Nilaveli, Kandy (You can let us know your exact location for us to check and confirm the possibility).
It takes around 3 hours to complete the visit of Anuradhapura, the ancient city. You can walk or we can arrange some bicycles if you prefer some cycling.
Tour Type: Our Anuradhapura Day Tour is a private tour. The vehicle and the guide/chauffeur guide are dedicated to you and your group. The safari tour will be done by an off-road vehicle and traveling to the starting point and back will be done by a comfortable car, van, or mini coach.
So, visit our Contact us page to connect with us. We will provide all the essential details regarding this tour! Polonnaruwa is another place in Sri Lankan cultural history, and it was the second kingdom of Sri Lanka. Likewise, Anuradhapura, there are so many ancient places to explore in Polonnaruwa too. You can also plan your Polonnaruwa tour with us!
.
.
(Cover Image Source: Spin The WindRose from Pinterest)