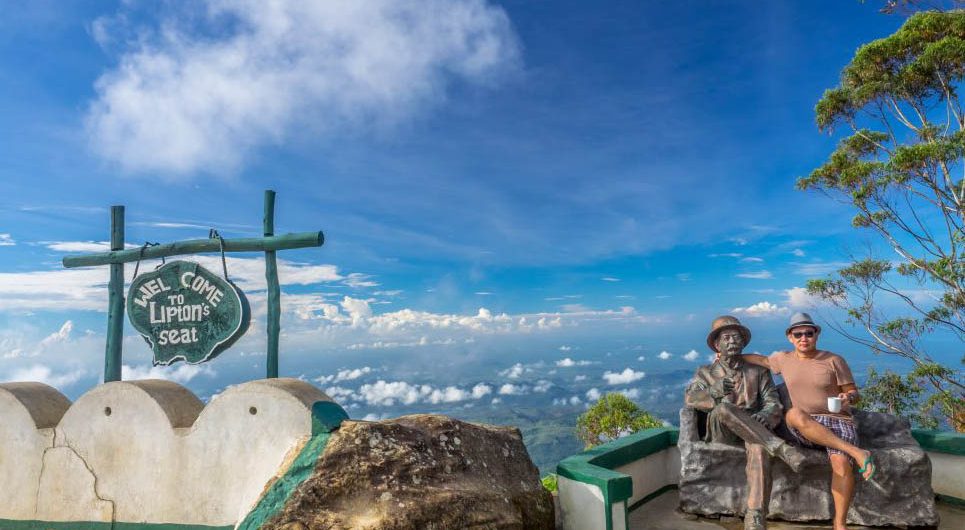 Lipton's Seat is a popular high observation point in Sri Lanka among local and foreign travelers. It is situated at the top of the Poonagala Hills at an elevation of 1970m. This is also a viewpoint from which you can observe five major provinces in Sri Lanka. The route to Lipton's seat is absolutely beautiful with greenish tea estates. We can suggest that it is another must-visit place near the Ella tourism city.
Location
Lipton's seat is situated in the Badulla district of Uva Province. Haputale and Poonagala are the closest town to the area. Distance to here from Haputale is 16km and from Ella is 27km. There are two major routes to reach the place.
Bandarawela, Poonagala and through Nayabedda Estate
Hapuatale and through dambethenna tea estate
Those two routes are very scenic with lush and greenish tea plantations. It's no matter whether you select one from them,
If you are starting from Ella, then the Poonagala – Nayabedda route is ideal for you. The surround is amazing to watch. Tuk Tuk is the most suitable vehicle for this route and it takes around 1 ½ hours to reach there. If you come from Colombo or from the Upcountry railway, then the Haputale-Dambethenna route should be your selection. The public transport busses are available on that route. But Tuk Tuk or a scooter are the most ideal vehicle for too this route. It also takes one hour to reach the destination.
However, you should buy a ticket to enter the Lipton's seat. After the entrance, you have to walk around 1.5km to reach the actual viewpoint.
Amazing View
As we mentioned earlier, you can observe five major provinces in Sri Lanka from here. Those five provinces are; Uva, Sabaragamuwa, Eastern, Southern and Central. As well as you can clearly identify some of the key places. In a clear day you can identify Chandrika Lake, Udawlawa Lake, Handapanagala Lake, Hambanthota Harbour, Wedasitikanda Mountain, Devinuwara Lighthouse, South Coast and Tricomalee Lighthouse.
Early morning is the best time to visit Lipton's Seat. On that time you can observe the beauty of the sunrise from the distance. It is actually a fantastic picture and you don't forget to capture it with your camera. Sometimes, the mist will cover the place and it will destroy your stunning view. In such a time, you can see the clouds under you. If you are lucky person then you will see clear picture of the surrounding. If not you will be unhappy with the mist.
History
Lipton's Seat and the surrounded Dambethenna tea estate was established by the Scottish tea planter Sir Thomas Lipton around 1890s. He was also contributed in development of the tea industry in Sri Lanka. He managed all the surrounded tea estates and lived on there. After his duties, he came to this view point and sited on their leisurely by observing the scenic view. Sir Thomas Lipton also started the Dambethenna Tea Factory for the manufacturing of tea. On those time this was the estate produced the best Black Tea in the country.
Other Facts about Lipton's Seat
Catherine Seat is another nice view point near the Lipton's seat. It is few kilometers away and which is situated in the Nayabedda estate. This view point also generate a scenic picture and you can clearly identify the places like Bandarawela, Diyathalawa, Uva Valley and Namunukula Range.
Lemathota Waterfall is a nice waterfall that you will meet it in the Dambethenna estate. But it is not popular among most of the travelers. However, it is another nice place to wait for few minutes.
Lipton's seat is a place with cool climate. You should be ready for that before go there. As well as you can expect sudden changing weather.
There is a nice statue of the Sir Thomas Lipton near the viewpoint. You can sit neat it and enjoy the beauty of the atmosphere.
The place is open from 6am to 5pm. Anyhow, Morning is the ideal time to go there.
You can visit Dambethenna Tea Factory and further can analyze the tea manufacturing procedure.
(Cover Image Source & Credit: Lanka Classy Tours Twitter)