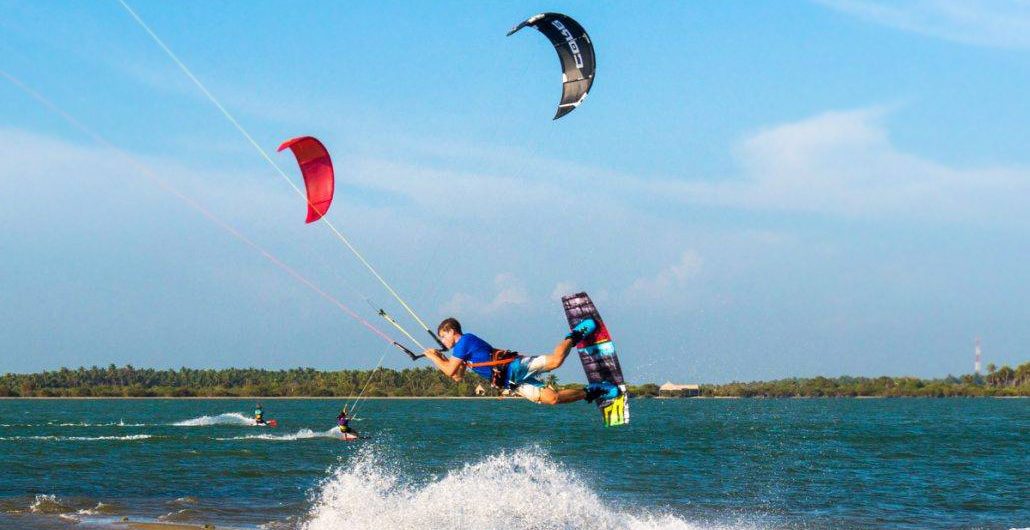 Situated in the Indian Ocean, Sri Lanka is considered one of the most visited tourist places in the world for its many characteristics. Here we talk about Sri Lanka's best kitesurfing spots. Kitesurfing is for anyone who is daring. If you are adrenaline obsessed, kitesurfing is for you to get your hype in control. Sri Lanka is one of the best kitesurfing destinations in the world and there are specific places where kitesurfing is taught, guided, and shown. Amongst the many adventurous sports in Sri Lanka, I believe kitesurfing tops the chart. It is a sport that really gives you an adrenaline rush while giving you a calming sensation from the breeze at the same time.
There are many places in Sri Lanka where this activity is conducted. Our guides will take you to one of these locations when and if you need to participate in this activity. Our guides are thorough with local knowledge, about weather and about the sport as well. If you require language specific guides, it can be arranged upon special request.
Kitesurf? Let's see what it is
This activity in layman's language is, tying you to a huge kite and being pulled on a surfboard with the help of the wind. This is the simplest explanation of this activity which sounds quite cool and exciting. But this aquatic sport requires training. Generally in Sri Lanka, there are short trainings provided to amateurs who would like to participate. If you are an expert, welcome to Sri Lanka! But nothing to worry, with our excellent trainers and instructors, usually everyone successfully surfs like a pro!
Where to go…
Best kitesurfing spots in the country
Kalpitiya is said to be the most famous and visited place for kitesurfing in Sri Lanka. There are a number of kitesurfing schools and spots in Kalpitiya. It is best if you book it in advance and make sure your sessions are booked. May to September is the ideal season for this activity. The basic idea is the weather needs to be a bit windy. Some go in October if it is windy. It is required to be able to swim because it involves being on a surfboard in the sea. A short training period of about fifteen hours is required. Mannar is another famous spot for kitesurfing. This city also has many kitesurfing areas with instructors.
There are shops where you can get one and repairing stores are available too. All kite lessons follow International Kiteboarding Methodology. It is equally loved and participated by both locals and foreigners.
For a good hype!
It is indeed an exhilarating sport where your nerves are put to test. It is an international aquatic sport and to be one of the top-notch places in the world to practice it is a privilege. Therefore, do not hesitate, we have gotten the best of the bests and they will instruct you with international standards to fly over a surfboard by the wind. Come down to Sri Lanka if you eagerly wait to experience in kitesurfing.
Read more about our tours;
Day Tour at Anuradhapura Ancient City
Day Tour at Polonnaruwa Ancient City
( Image Source & Credit goes to: Lusie Travels Sri Lanka Facebook Page)