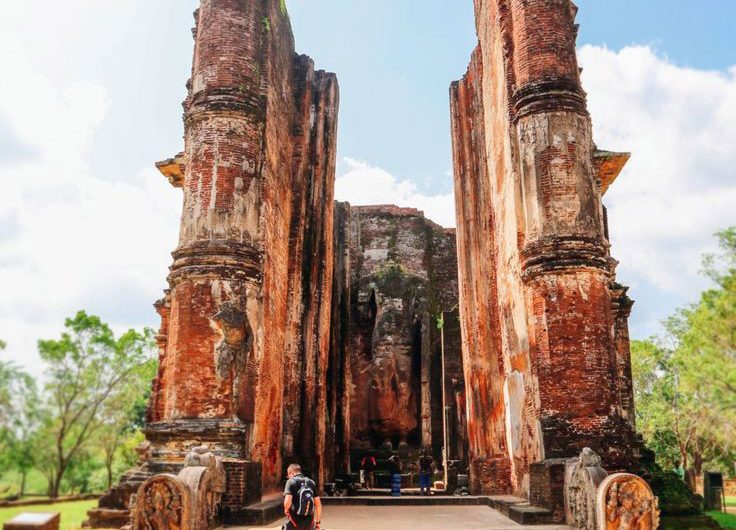 Polonnaruwa Day Tour-Great Opportunity to Explore Sri Lankan History & Culture
Are you up to seeing one of the most beautiful and rich cities in Sri Lanka? Are you up for a great day with history? The Polonnaruwa Day Tour is an ideal option for that. Sri Lanka has a strong history of kingdoms and is very rich in culture. This island has so much to see for its locals as well as its tourists. People who come to this country are never disappointed by the beauty, culture, and history of this place.
Our Polonnaruwa Day Tour is designed to give you a historical perspective of one of Sri Lanka's ancient cities. We will provide a guide for you who is able to communicate with you in English. We ensure that the guides are thorough with local knowledge and historic information. If you require language-specific guides, it can be arranged through a special request as well.
This day tour is conducted during the day because it is a cultural tour and a lot of visits to ancient ruins are included.
The Royal City of Polonnaruwa
The Sri Lanka Cultural Traingle connects the three cities of Anuradhapura, Polonnaruwa, and Kandy. This cultural triangle contains many historical and ancient sites. Polonnaruwa is an ancient city considered as one of the eight UNESCO world heritage sites in Sri Lanka. This is the place you should definitely visit if you love to explore Sri Lanka's history.
It is declared as the second ancient city in Sri Lanka after Anuradhapura. Polonnaruwa was one of the kingdoms in Sri Lankan history and was ruled and reigned over by many kings at the time. The main difference between these two kingdoms is that, unlike the Anuradhapura kingdom, Polonnaruwa had a lot of influence from Hinduism and was even ruled by some Tamil kings. This cultural city has a lot of Hindu kovils apart from the Buddhist temples. It is also a city that has been famous for its agriculture. There are a lot of farmers out there.
Must-see places in Polonnaruwa
One of the significant places in Polonnaruwa is the ancient ruins of the Royal Palace of King Parakramabahu. Even though you can only see ruins, they are evidence of great architecture and design. Another main attraction is "Gal Viharaya' which consists of many beautiful images and statues of Buddha. It is a symbol of excellence in carving. Apart from that, there are temples, stupas, and dagobas that are quite significant in the city, such as Lankathilaka Temple, Rankot Vehera, Thuparama gedige, and Potgul Viharaya.
The ruins in Polonnaruwa are so much more than what is described above. Apart from those temples and stupas, the city also has many Hindu temples and kovils due to the influence of Hinduism. There are several temples dedicated to the god Shiva and the god Vishnu in Polonnaruwa, all considered as historical ruins.
Beautiful Sri Lanka, beautiful Polonnaruwa.
Our Polonnaruwa day tour is considered very informative and educational. During this day-tour, you will learn about the many influences Polonnaruwa had as a kingdom, the names of kings that ruled, and the agricultural influence. It is an ideal day trip for everyone that loves experiencing new cultures and discovering history. Sri Lanka in general has a very rich history in terms of kingdoms, agriculture, and civilization.
Polonnaruwa Day Tour with Mahaweli Tours & Holidays
Come and join the tour to enjoy this magnificent ancient kingdom with great history. Our guides will guide you throughout the tour to give you the most exhilarating tour experience. Don't forget to bring your smart phones and cameras to capture these mighty sights.
Possible Starting/Pick-up Locations:
Polonnaruwa, Dambulla, Sigiriya, Pasikudha, Trincomalee, Nilaegombo (You can let us know your exact location for us to check and confirm the possibility)
Duration : It takes around 3 hours to complete the visit of the Polonnaruwa ancient city. You can walk or we can arrange some bicycles if you prefer some cycling.
Tour Type : Our Polonnaruwa Day Tour is a private tour. The vehicle and the guide/chauffeur guide are dedicated to you and your group. The safari tour will be done by an off-road vehicle and traveling to the starting point and back will be done by a comfortable car, van, or mini coach.
If you are a person with a cultural interest, then you should definitely explore places in Sri Lankan cultural-traingle. You can also plan your Anuradhapura city tour with us too! Call +94777 111553, email: info@mahaweli.lk, or contact us for more information on any of these issues!
.
(Polonnaruwa Image Credit: PT Palace from Pinterest)