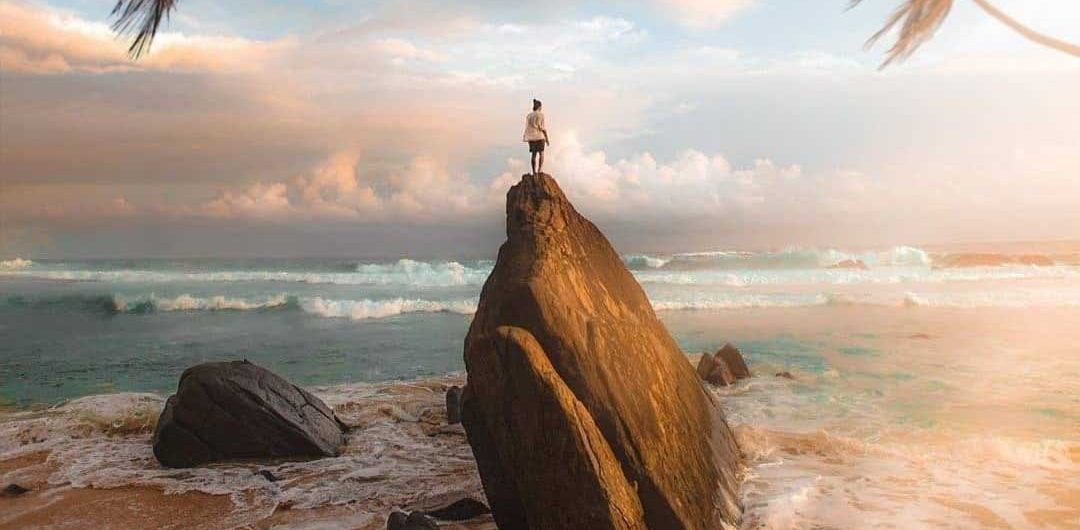 The Sri Lankan Southern Coast is a beach paradise where you can find so many beautiful beaches in the entire province. Here we are discussing another magnificent beach called Dalawella Beach.
Dalawella Beach is situated in the Unawatuna area of the Galle District. It is 8km away from Galle City and 150km away from the capital, Colombo. The place is a popular tourist attraction because of these two things. One is called "The Palm Tree Rope Swing" and the other one is called "Ship Rock". It is not far from the famous Unawatuna beach, where you can reach it within 10 minutes by tuk tuk.
The palm tree rope swing is an activity where you can swing out over the sea water. It is a funny and nice experience to get in here. You should note that it is a payable activity to start. The Ship Rock, also known as Wijaya Rock by some, is close to the rope swing.There you can capture an amazing photoshoot. It is a large stone that you can climb to its top. The view is fantastic because it allows you to shoot some nice photos to post on Instagram.
Most of them think that 'Wijaya Beach' is another name for Dalawella Beach, and most of them think those beaches are two different ones. They are, however, the same.
Evening is the best time to visit Dalawella Beach, which generates colorful pictures for our eyes. Just like other beaches in Sri Lanka, Dalawella beach is a superb spot for swimming, snorkeling, and other water activities. For the daytime, you can rest out on the beach to enjoy the sun bath. There is a beautiful palm tree line throughout the entire beach. As well, a lagoon is situated nearby where you can also visit.
Dalawella beach is also popular for watching sea turtles. You can find every aged sea turtle here. If you are doing snorkeling here, then you can swim along with those sea turtles. Anyhow, it is important to note that you are not allowed to disturb them or catch them.
So, we recommend Wijaya Beach as the best place to visit in the southern province of Sri Lanka. Don't forget to take a camera and enjoy your leisure in a fantastic manner.
.
.
(Cover Image Source: Sri Lanka travels & trends )