You can easily book Kandy to Ella train tickets with us. We are Mahaweli Tours & Holidays, a leading tour agency in Sri Lanka. For booking and other details, call +94777 11153 or info@mahaweli.lk.
In this post, we have brought you all the essential information about the Kandy to Ella train journey and how to book the tickets. So, we request that you read this guide if you are planning to take this journey ahead.
An Introduction to the Kandy to Ella train journey
The Kandy to Ella train ride is considered one of the best train rides in the world. This train ride actually started in Colombo and ended up in Badulla. But the Kandy to Ella portion is considered the most popular and scenic. So, a large number of locals and international tourists express their high demand for this amazing train ride. This journey takes approximately seven hours to reach its final destination. Anyhow, this is a must-do thing for a tourist who loves sightseeing in Sri Lanka.
The History of the Up-Country Railway
The Sri Lankan railway started in the mid-19th century. During that period, the country was ruled by the British government. They started the Colombo to Badulla railway to transport coffee and tea from the up-country. Those crops were only planted in the hilly areas of the country and there was no better transport option to send them to Colombo without a train.
In the early days, this railway was used mainly for transporting goods. People were gradually able to use it as a better transport option after the 1960's. Therefore, the train ride became popular. Nowadays, the Kandy-to-Ella train ride is mostly fully crowded and busiest at the weekends.
Colombo - Badulla Train Time Table
Every day, six trains start their journey from Badulla and finish off in Colombo. Again, six trains started from Colombo fort and finished up at the Badulla railway station. But Mahaweli Tours and Holidays only books tickets for four trains. Two trains start their journey from Badulla and the other two start from the Colombo Fort. Therefore, you should definitely note this before reserving Kandy to Ella train tickets with us.
Here is the Kandy to Ella Train Time Table.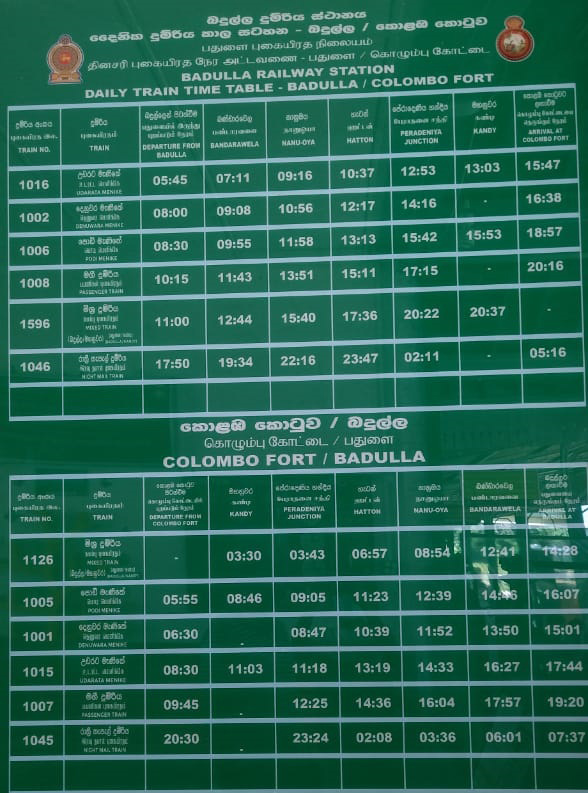 We book tickets for trains 1016 and 1006, and those trains start their journey from the Badulla Railway Station.
The No. 1016 train starts around 5.45am and reaches Ella around 7am. It reaches Nanu Oya around 9.15 and comes to Kandy around 1.15pm. It finished its journey after reaching Colombo at around 4 pm. The No. 1006 train begins its ride at around 8.30 am from Badulla. Then it gets to Ella around 9.45 a.m. and Nanuoya around 11.55 a.m. It then reaches Kandy around 3.55am and finally reaches Colombo around 7pm.
Again, we book tickets for trains 1005 and 1015, and those trains start their journey from the Colombo Fort.
The No 1005 train starts at 5.50am from the Colombo Fort Railway station. It reached Kandy around 8.45am. Then it reaches Nanu Oya around 12.40pm and finally reaches Ella around 3pm. The No 1015 train departs from the Colombo Fort at around 8.30 a.m.It reached Kandy around 11 a.m. Then it reaches Nanu Oya around 2.40pm and finally reaches Ella around 4.45pm.
We suggest that those four trains are the ideal ones to pick and enjoy the best journey. Anyhow, it doesn't matter whether you are looking for Ella to Kandy or Kandy to Ella train tickets, we can reserve them for you.
Highlights of the Kandy to Ella Train Ride
Kandy to Nawalapitiya
Starting from Kandy, the train will first come to the Sarasavi Uyana railway station in Peradeniya. Until there, your train comes through Kandy city. Then the speed of the train will get much higher. You will pass many roads, towns, and bridges until the train comes to the Gampola Railway Station. From here, the urban environment is getting hidden, and you will see villages and the rural environment from here. Actually, from now on, you are going to be able to see the actual beauty of the upcountry railway. From here, you can observe beautiful mountains and tea plantations. Your train will cross the river Mahaweli a few times. Your train will come to the Nawalapitiya railway station after Gampola.
Nawalapitiya to Nanu Oya.
The train will come to the Galboda Railway Station after Nawalapitiya. Before arriving there, the train will pass through a few tunnels. From now on, you will be going through less populated areas, and suddenly you will enter a dense forest area with high forest cover. The elevation is now rising, and you will feel that the environment is also getting cooler. Then your train will come to the Watawala area. It is the area that receives the highest rainfall in Sri Lanka. Therefore, don't wonder if you suddenly encounter rain in the Watawala area. After Rozella, the train will enter an area with large tea estates. It seems very scenic due to the well-maintained tea bushes. Until you reach the Nanu Oya, you can observe the beauty of those tea estates. In the Talawakale area, you can see two waterfalls called Saint-Clair waterfall and Devon Falls. Those two waterfalls are very attractive and nice to watch, and they add value to the trip.
Nanu Oya to Ella
Nanu Oya is another beautiful railway station where you should drop out if you go to Nuwara Eliya City. It's not far to Nuwara Eliya from there. The elevation is still getting higher and you will now enter an area with a lot of forest and a lot of grassland. The Ambewela area is very popular for milk production in the country. Then you will enter the Pattipola Railway Station, which is considered the highest railway station in the country. The elevation of that point is 1881m above sea level. You will now feel much cooler than in other parts of the ride. After the Pattipola, you will come to the Idalgashinna by passing Ohiya Railway Station. You will pass many forest covered bridges before Idalgashinna. It feels like you are adventurous. Eljin Ella Waterfall is another beautiful waterfall that you can observe in these areas. The Nanu Oya to Idalgshinna part is comprised of a lot of forest and grassland. It is also another sparsely populated area.
Idalhashinna is another beautiful railway station with lovely surroundings. After that, you will enter the Haputale Railway Station. You can mostly see the mist in the Haputale area. Your train will cross pine tree forests in the Diyathalawa area. Then you will come to the Bandarawela railway station, and it's not far to end your journey. After around 7 hours of the train journey, you will arrive at the final destination of Ella.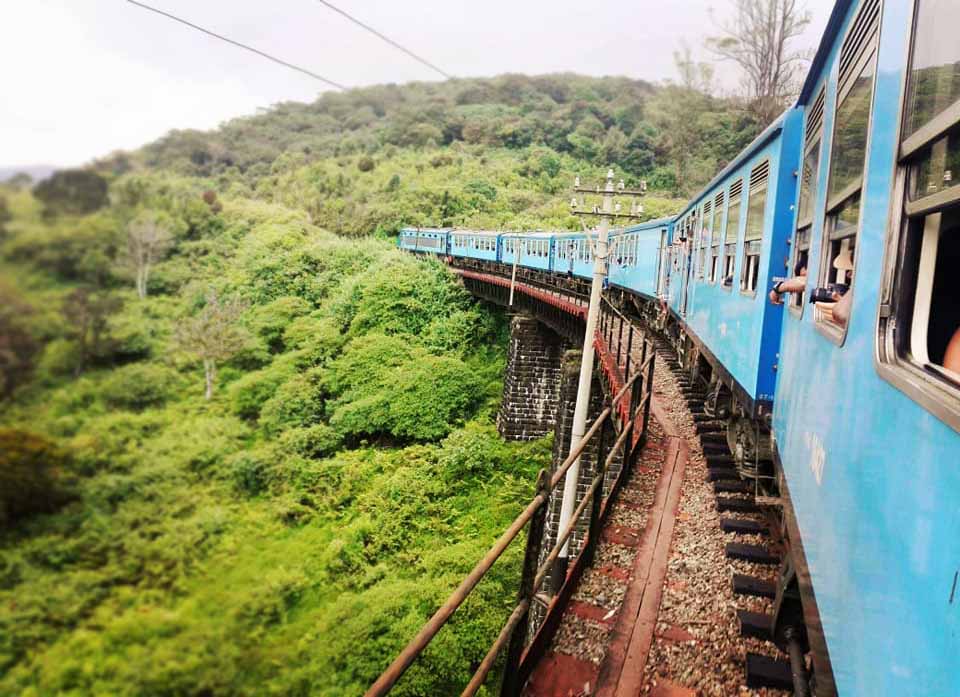 The main railway stations between Kandy and Ella
Sarasavi Uyana Railway Station (Peradeniya)
Gampola Railway Station.
Nawalapitiya Railway Station.
The Galboda Railway Station
Watawala Railway Station.
Hatton Railway Station
Talawakale Railway Station
Nanu Oya Railway Station
Ambewela Railway Station
Pattipola Railway Station.
Ohiya Railway Station
Idalgashinna Railway Station
Haputale Railway Station.
Bandarwela Railway Station
Places to Visit in Ella and the surrounding areas
Little Adam's Peak
Nine Arch Bridge,
Ella Rock
Diyaluma Falls
Ravana Falls
Liptons Seat
Things to Consider Before Reserving Kandy to Ella Train Tickets
The train ride normally takes around 7 hours. But most of the time, it is delayed more than the expected time. Don't worry if it takes about 9 hours. You should know that it can happen.
Kandy to Ella train tickets are selling fast. It is really difficult to book a ticket on the same travel day. Therefore, it is better to make the reservation online or pick a tour agency like us to book a ticket for you.
Normally, first class tickets are considered the best option to enjoy a train ride. But in the Kandy to Ella train ride, this happens on the opposite side. Second class or third class is the best option for enjoying the ride. You can open your windows and smell the fresh air. If you choose a first-class ticket, then you will miss this opportunity.
It is better if you can bring water and essential foods. But you can buy the essentials from the local vendors.
You can do the same train ride from Colombo. But it is tough and you will have to wait on the train for at least 10 hours. Therefore, choosing the Kandy to Ella part is the better option.
Try to pick a train that starts early. That will give you a 100% worthwhile experience for your journey. If the dark is covering your journey, then you will miss a lot of enjoyment.
Most of them will believe the right-hand side is the best option until you reach the Nanu Oya. From there, the left-hand side gives you better pictures until you reach Ella City.
Be careful when putting your hands, legs, and head out the windows or doors. Always think about your safety first.
Kandy to Ella Train Ticket Booking with Mahaweli Tours and Holidays.
As we mentioned earlier, you can easily book your Kandy to Ella train tickets with us by contacting our team with the above-mentioned mobile number. If it is troublesome to use it further, then we suggest you fill out the form and just send it to us. We will contact you in a very short period of time and help you with ticket reservations.
A Kandy to Ella Train Ride is a must-do thing in Sri Lanka. So, we strongly believe this guide will give you all the essential details about this scenic train ride. If it is so, don't forget to share this article among your friends who are waiting to take this journey or looking for Kandy to Ella Train Tickets.