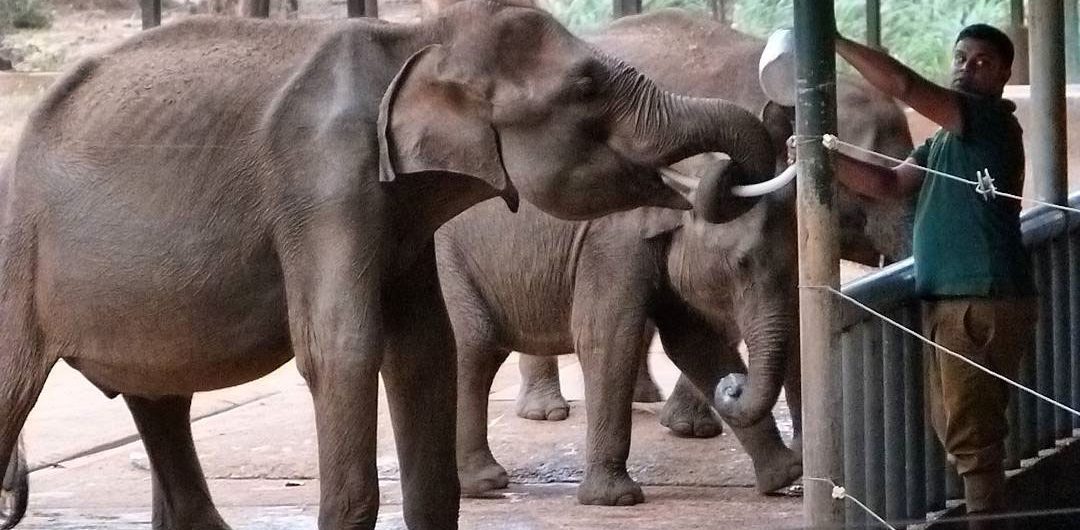 Sri Lanka is blessed with so many natural resources. It is also home for so many animals. This visit is for you to experience one of the major steps taken by Wildlife Conservation in considering the wellbeing of orphaned baby elephants. This establishment is called "Ath Athuru Sevana" or Elephant Transit Home and is situated in Udawalawa.
Ath Athuru Sevana – the home for the orphaned elephants
This great step was taken in 1995 at the Udawalawe National Park since a lot of big herds of elephants are gathered in the area. The birth of this establishment had many hindrances as many assumed this would be a failure, considering the feasibility of the objective. But a brave and determined officer Dr. Nandana Atapaththu worked tirelessly with minimum resources to bring "Ath Athuru Sevana" to life. The Elephant Transit Home's objective is to care for baby elephants until they are big and independent enough to be released to the wilderness. The home does not have boundaries and baby elephants get to freely wander about. In a short span of time, it succeeded so much and now it is considered as of the best wild animal rehabilitation centers in the entire world.
The first member of The Elephant Transit Home
An orphaned baby elephant was found in a forest in Anuradhapura district. It was one year old females and was brought and registered as the first resident. This baby elephant was given the name "komali" and was reintroduced to the wilderness at the age of five. Till date, more than 250 orphaned elephants have been under the care of the Home.
A memorable visit to Ath Athuru Sevana
What an amazing place is this rehabilitation center! It takes a lot of patience and courage to maintain the place. The regular milk feedings, taking care of the sick ones, post-illness treatments, etc. takes a lot of time and endurance. That is why it is considered as one of the most admired places in Sri Lanka. With baby elephants, it is never a dull place.
All nature lovers and animal lovers from all across the globe pay a visit to Elephant Transit Home when they come to Udawalawa. They never miss out on the chance of seeing young elephants being rehabilitated. With our subject specific guides, you can enjoy a nostalgic visit by spending time seeing baby elephants being taken care.
It is one of the most admirable services rendered to the wildlife and mammals in general, thus making it a top-notch establishment. Come with us to experience a refreshing happiness by seeing this conservation done at a large scale. Assuredly, this will be in red letters in your journey.
Visit Udawalawa with Mahaweli Tours & Holidays
You will be given a guide throughout the visitation who is capable in communicating with you in English as well as share a lot of local knowledge. We will make sure your visit is worthwhile as it is considered one of the major establishments in the department of Wildlife Conservation.
Possible Starting / Pick-up Locations :
Ella, Udawalawa, Thissamarama, Rathnapura, Haputhale, Bandarawela, Katharagama, Yala (You can let us know your exact location for us to check and confirm the possibility)
Tour Type : A private tour. Vehicle and the Guide / Chauffer guide are dedicated to you / your group. Safari tour will be done by an off road vehicle and traveling to the starting point and back will be done by Comfortable Car / Van / Mini coach.
(Cover Image Source and Credit Goes to: @natalinipon from Instagram)